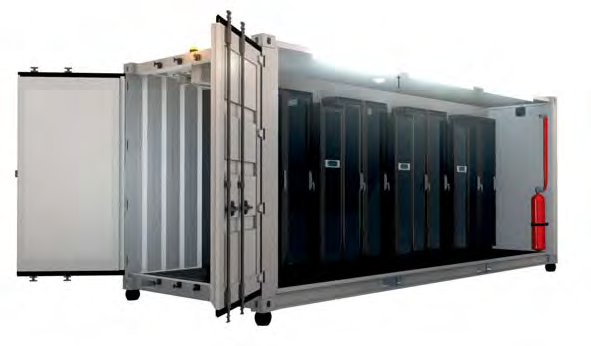 Stoorlabs introduces the inMOVIX DC concept, an Advanced Data Center in a modular standard 20' container, in partnership with Adam ecoTech.
All the functionalities and performances of a traditional CPD: cooling, power, security and redundancy in portable modules.
Economical, scalable,highly efficient and ready to be deployed in a very short time.
Ideal for installing safely your new CPD in any location or to expand your existing facility with a fraction of the cost and time required for the  construction and implementation in a conventional building. Also suitable for itinerant installations, emergency deployments,or to provide service for punctual demands for IT services.
All in a highly efficient and customizable solution according to
the specific needs for each project.
Download datasheet
✔ Registered standard 20′
naval container
✔ Affordable and fast Data
Center installation
✔ Worldwide delivery
✔ Up to 300 servers
✔ Fully customizable, 312 U available in 8 racks 45U D900mm
✔ High Efficient ,PUE < 1,1
✔ Fire extinguishing, IP, CCTV and intrusion remote control integrated systems
✔ Environment friendly
✔ Tested solution in constant evolution